Saboribar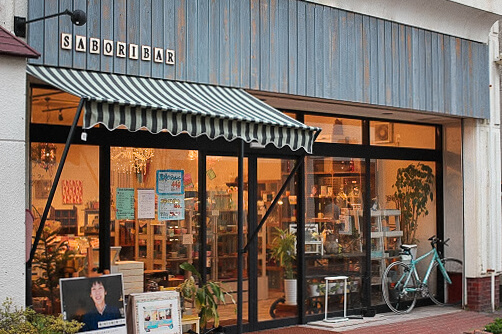 Stylish Saboribar is located in downtown Kobayashi, easily accessible on foot from the train station.
The café is aptly named: the verb "saboru" means "loaf on work" or "play hooky", and it sincerely encourages you to stay and enjoy its atmosphere, its delicious coffee, some of its many desserts, or a daily specials.
The place is wonderfully decorated, the music is always chill perfect, the service is extremely welcoming. Everything there is orchestrated to make you enjoy your time to the fullest.
As for the cuisine, it is always fresh, tasty and varied. Part of the menu changes every week, but it always offers a dish of meat, fish, and pasta. Added to this are the classics of Saboribar: pizzas, burgers, and desserts (pancakes, parfaits, etc.). Something special for everyone!
Saboribar is well known for its live music sessions. Anything from synthesizer music to Beatles style and Jazz. The relaxed atmosphere during the live sessions creates a special connection to the artists and makes every session a very special occasion.
On top of everything, this little café also runs a cute souvenir shop with toys, kitchen ware, t-shirts and other products. So you can carry a little of Kobayashi home for yourself or your loved ones.
In short, a wonderful place to enjoy!
Address: 宮崎県小林市本町 32-7 1F → Miyazaki-ken, Kobayashi-shi, Honmachi 32-7 1F
Phone: 0984-27-3467
Hours : 11:00 am – 5:00 pm
Closed on Wednesdays