2018/08/01
Kobayashi was in Paris!
We did it! We went to France to promote our city, Kobayashi!
I felt so lucky to have been able to talk about the city I felt in love with to my fellow countrymen and convince them to come visit it.
With my boss, we arrived in Paris on the 1st of July. The weather was lovely and despite our tiredness we decided to go find a restaurant with terrace to have diner. This was the first time my boss experienced a diner on a French terrace, but I think he got addicted to it right away. I mean: sun, wine, nice people, laugh, cheese… what more can you ask to finish your day?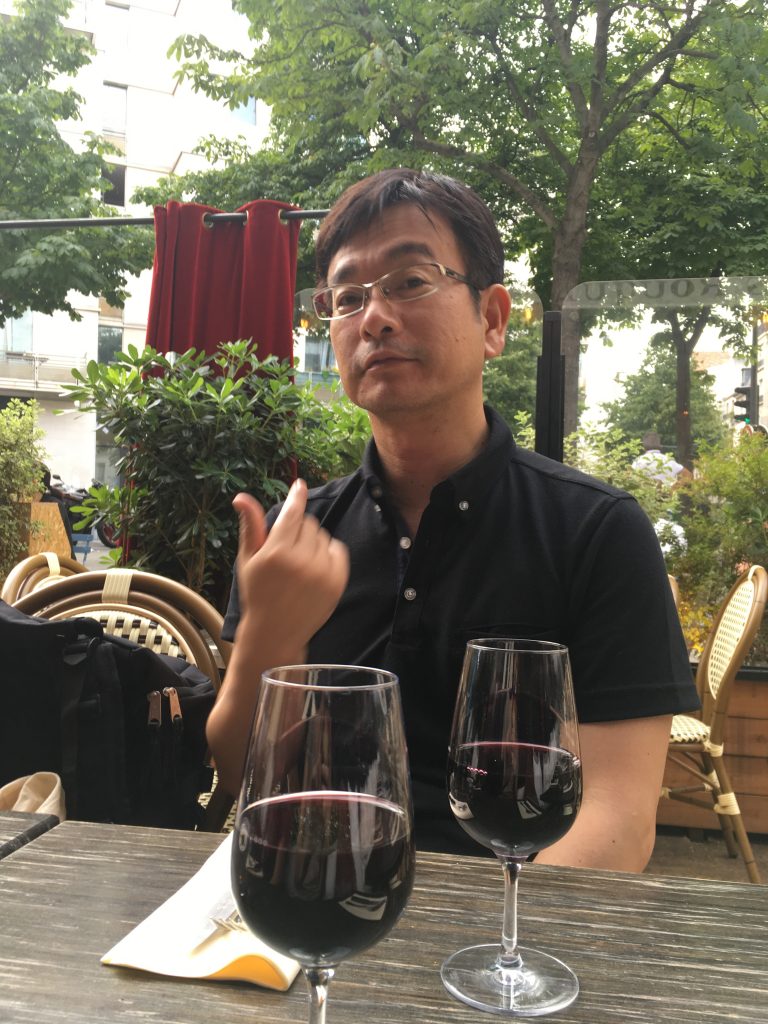 (my boss agrees with the above-mentioned)
On the 2nd of July we participated to a seminar about tourism in Kyushu. At first, a brief presentation was done about all the places of interest in Kyushu. I was quite disappointed by the lack of passion or surprises during this presentation. I felt that there are so many things to say about Kyushu so simply listing the already famous spots was not satisfying..
After the presentation, every prefecture of Kyushu had its own space to present their own destination. This was a great experience for us to promote Miyazaki prefecture and Kobayashi city to travel agencies for the first time. It was also great to see that our destination was raising interest within all type of customers.
This day ended with a fancy reception where I drank a long-waited glass of champagne… heaven!
Then we suddenly ran away from the fancy reception to go watch the match of the day: Belgium VS Japan. We arrived only at the second half but the timing was perfect. The first two goals from Japan made my boss jump on his chair, we suddenly believed it was possible and then … well, fate happened and led to gloom and chaos!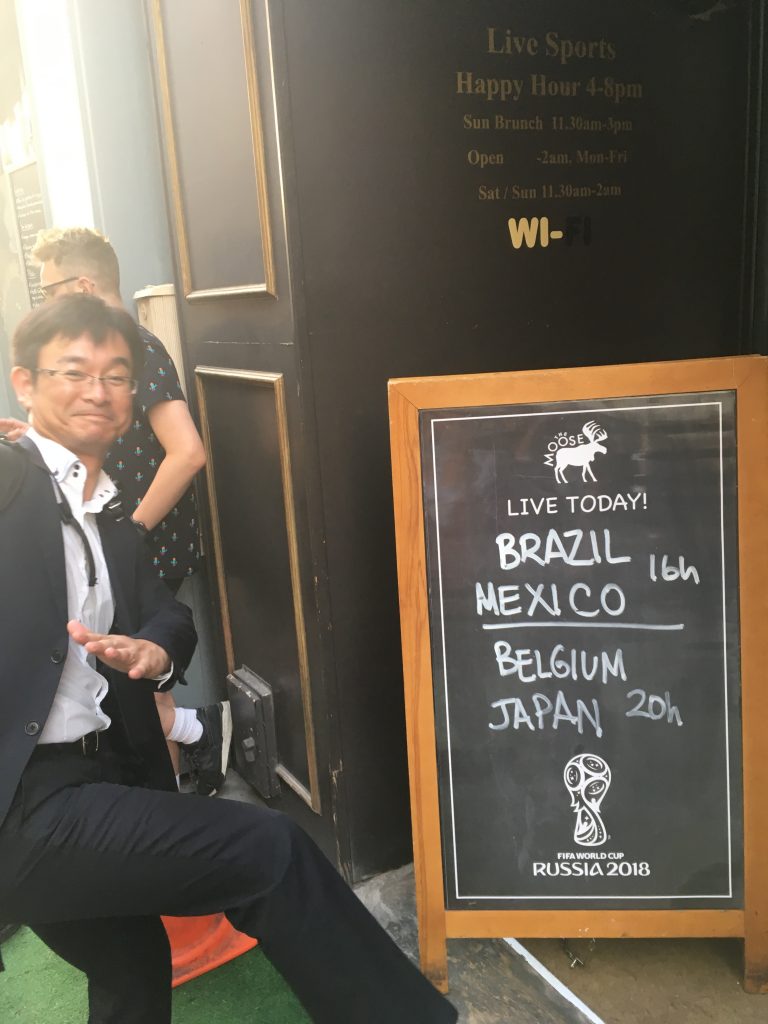 (My boss before gloom and chaos)
On our second day we took the train to go to the champagne region (yes, I love champagne) and to visit the city of Epernay and Aÿ. The idea was to find a city on the same scale as Kobayashi and see how they manage tourism and tourists. The population of Epernay is around 25,000 people (Kobayashi: 45,000) but the city attracts around 400,000 tourists per year (Kobayashi: 700,000 Japanese tourists but only 9,700 tourists from abroad).
We visited 2 houses of Champagne and my boss was really thrilled to discover this part of France and to be able to learn so much about this famous wine.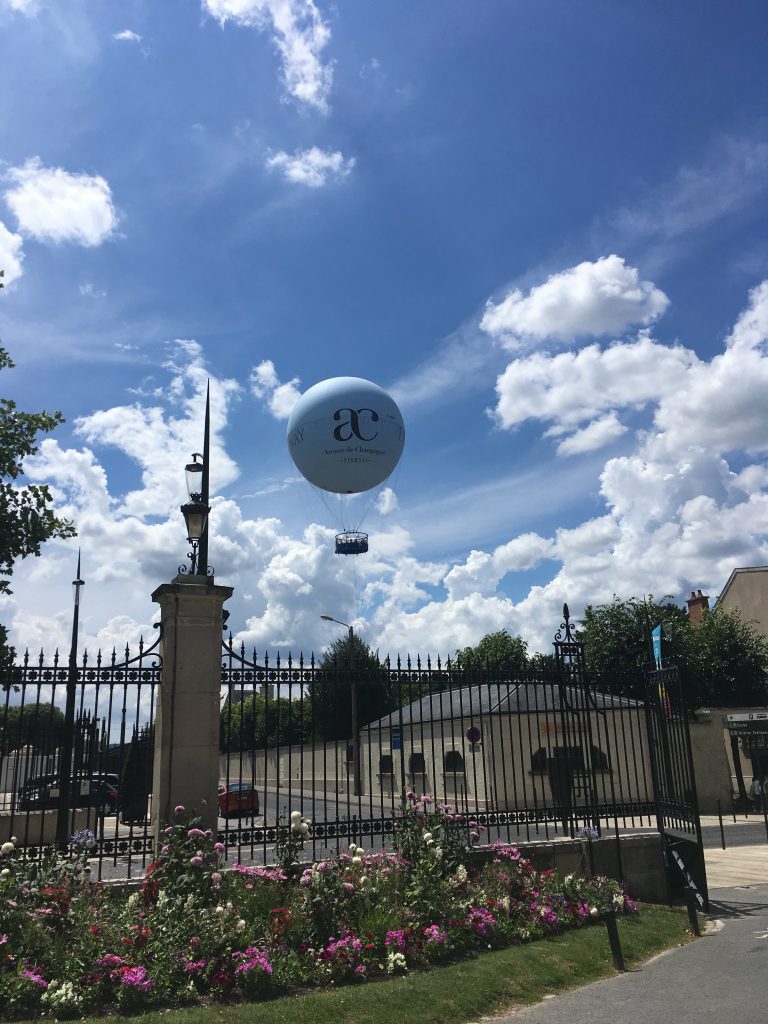 (Welcome to Epernay and its "Avenue de Champagne")
On the third day we had several meetings with different travel agencies in order to promote again our little city. This was the most frightening day for me as I would be completely on my own during the difficult exercise of promoting our destination. Of course, my boss was with me and he would always help but I would have to do my speech by myself and do it well. So, I was quite stressed about that day but actually everything went well, all agencies were interested in what we have to offer in Kobayashi. I think the fact the city isn't famous (at all) but has many things to offer was an effective argument.
From the 5th to the 8th of July we went to the Japan Expo in Paris. Kyushu had its own huge booth and they agreed to share it with us! It was a great experience. Most of the prefectures of Kyushu were represented and we answered all questions from customers. It was very interesting to talk directly to customers and to hear their wishes and comments about their future trip to Japan. Thanks to this event I think we manage to clear the first stage: get people to know more about Kyushu. Or at least get people to hear about Kyushu for the first time.
We were only 2 people speaking French in our booth so we were very busy during those 4 days but again it was really interesting to talk directly to customers and to share with them my passion for Japan in general and Kyushu in particular!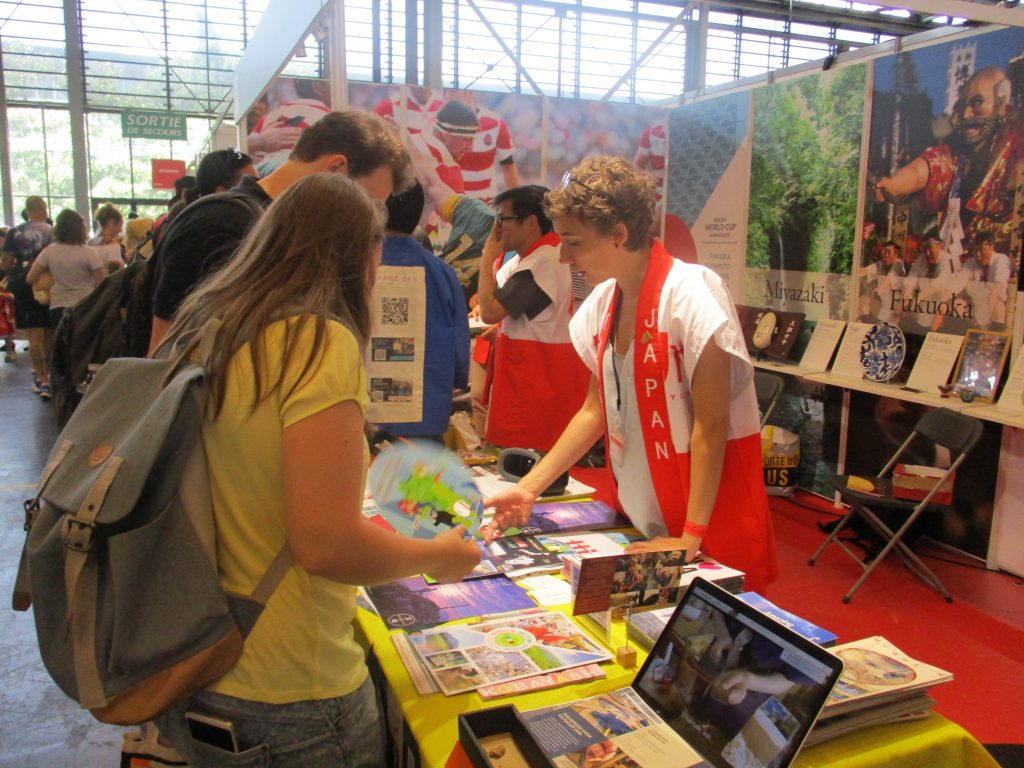 ("…and that's why you should come to Kobayashi!")