Mamako Waterfall
"Mamako" means "mother and child" in Japanese. Though the waterfall is beautiful, it has its name from a very sad legend.
The legend is about a cruel stepmother and a child who said stepmother fails to love.
Once upon a time, there lived a woodchopper and his beautiful wife near a waterfall. Though they worked hard, they lived every day to the fullest and enjoyed their daily chores. When they had a cute baby daughter, their lives were filled with happiness every day. But their bliss only lasted for a while, as the mother fell sick and left her beloved husband and child behind.
To care for the daughter, the father remarried, but out of jealousy the stepmother grew to dislike the stepdaughter more and more every day.
One day, the stepmother invited the stepdaughter to take a walk with her to the waterfall. Once they arrived there, they sat down to take a break. For the first time the cold-hearted stepmother showed a gesture of love, when she laid the child's head on her lap to look for lice. The child was overjoyed because of this long awaited gesture of love and without being noticed she tied her own kimono belt in a knot with her stepmother's.
All of a sudden, the stepmother shows her true face when she pushes the child down the waterfall.
With their kimono belts entwined, both met the same fate as they tumbled down into the water.
Officially, the waterfall's name is "Suki Waterfall", but these days, no one calls it that way. Back in the days, when it still was called by its old name, the waterfall had a height of 41 meters, so the waterfall was even more impressive before the dam in Aya was built. But thanks to the dam, there is now beautiful lake Ono, where you can enjoy SUP during the summer.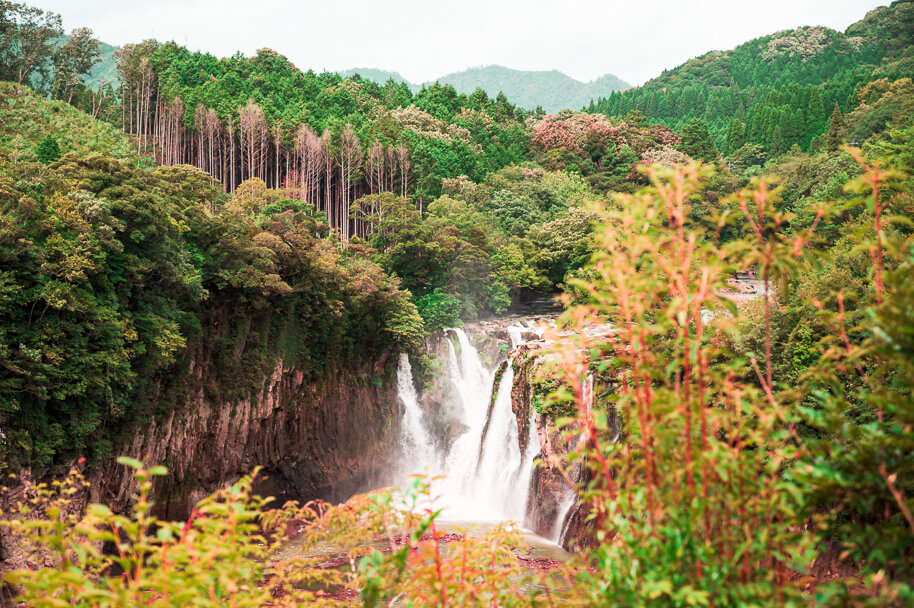 The suspension bridge offers some chills during Miyazaki's hot summers. With its height of 30m above ground and its pillars of 30m height, it is not for the faint-hearted, but definitely a sight to behold!
Do you want to see the waterfall from up close? You can always rent a SUP and paddle there.
Address: 886-0112 宮崎県小林市須木下田412-6 → Miyazaki-ken, Kobayashi-shi, Suki, Shimoda 412-6
Phone: 0984-48-2480